Emotional online tyrefinder application for Continental
Tire treads · Continental determines the perfect tire
How can the right tire be recommended online to an uniformed customer? Continental's new Reifenfinder offers a fast and easy way to intuitively choose one' fitting tires on the web. EINS23 developed and programmed this web application for «DOKYO», based in Hamburg, Germany.
Customer
The «Continental AG» is a market-listed company in the automotive industry headquartered in Hannover, Germany. The company currently employs approximately 180,000 employees in 49 countries.
Solution
After determining vehicle type and assigning all possible tire parameters (size, speed index, load capacity, etc.) an emotional interactive query process evaluates the user's driving behavior. The «Continental» web application subsequently combines all user choices and hence recommends the perfect tire for the customer.
We designed and programmed this application in the mission of the agency «DOKYO». It has been integrated on the home page of «Continental», will be adapted into other languages and launched in several countries.
Project
Web application
Our services
Fine concept, layout, programming
Agency
DOKYO
Links
Responsive app
The Continental Reifenfinder functions in both desktop and smartphone version absolute identical.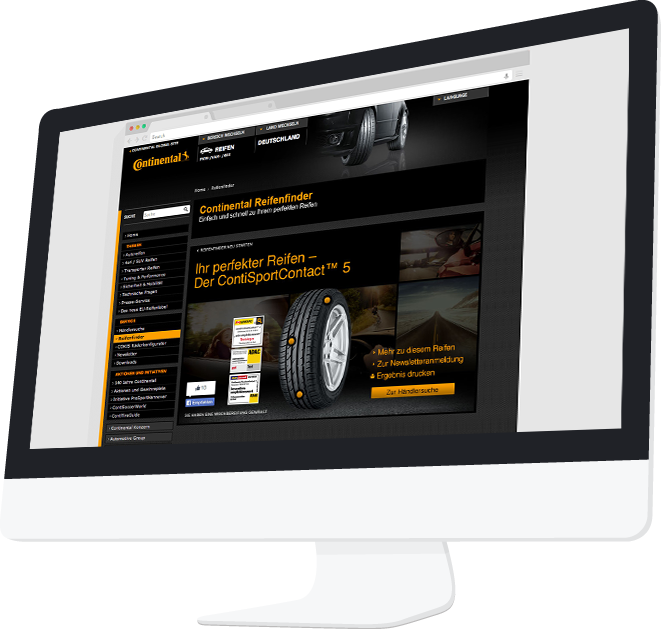 Screen capture · Reifenfinder operation
The independent Reifenfinder web application integrates itself completely into the Continental online framework.
The operation and the user guidance are simple and emotional.
Reifenfinder for trucks
Following the success of the Reifenfinder we developed a similar concept for the truck section. Since the Continental field service is completely converted to touch devices, the extensive consultation matrix can also be shown on these devices in the future - thanks to the new application.