Short film and website St. Pauli Abfahrt 1910
St. Pauli · Departure at 7:10pm
Is it possible to experience the typical St. Pauli lifestyle on 70 square meters? For just a month a 46-year-old double-decker bus hit the streets of the best known Hamburg district - each tour became a unique event. On behalf of «marke23», we were constantly present with cameras, produced the trailer and programmed the webpage including CMS.
Customer
St. Pauli is the most famous district in the center of Hamburg. A stroll around Reeperbahn makes you feel the old and rough harbor charm of the hanseatic city. Here is where red light milieu, tattoo studios and easy life is always present.
Implementation
The organizers of «Upsolut Merchandising» und «marke23» sent an old double-decker bus on event tours through St. Pauli – departure was always at 7:10pm.
Every night a different artist from Hamburg acted as hostmaster and presented their very own St. Pauli to a selected group of guests. We filmed the events and programmed the website.
The project supported the brand St. Pauli and featured artists like: Samy Deluxe, Cleptomanicx, Jungbluth Piercing & Tattoo, Die Skeptiker, Rote Gourmet Fraktion, Buddy Ogün, Astra Stube, Schlemmereck, Freudenhaus, Sorgenbrecher and Aale Dieter.
Project
Film, website
Our services
Camera, post production, programming, CMS
Agency
marke23
let's rock
The trailer we produced shows an overview of the different events. The music is by «The German Wahnsinn Team».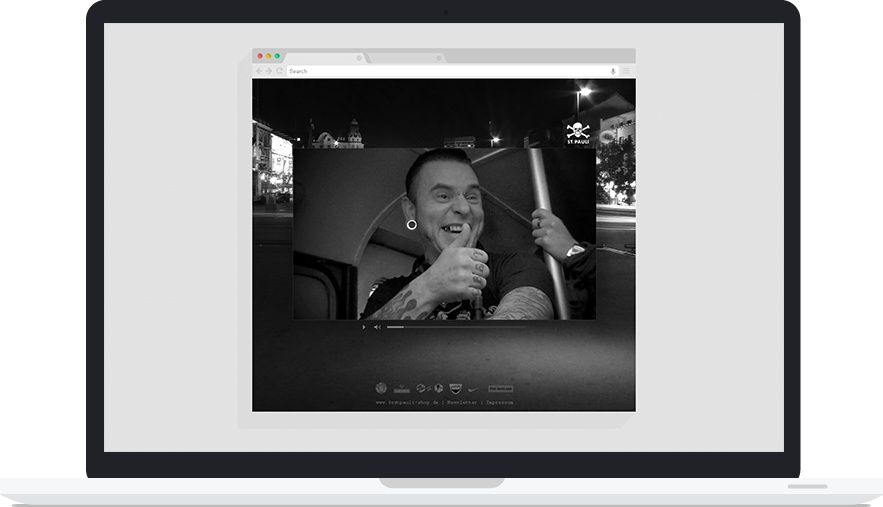 Website & CMS
We programmed a mini-site that listed every scheduled event and provided a lot of information for each tour. The mini-site could easily be maintained via CMS.