Website with CMS for oldtimer petrol station
Time travel to the 50s · the Oldtimer Petrol Station at Brandshof
The gas station at Hamburg's Brandshof looks as if time has stopped. Because it looks almost exactly the same today as it did then. Within the framework of lots of contemporary odds and ends and a contemporary coffee machine, you have the guarantee to see vintage cars.
Customer
In more than one year of work, Jann de Boer and Alex Piatschek renovated the site at the Brandshof, which is now a listed building, and thus saved it from decay. Since then it has served as a popular meeting place for lovers of old cars. Today, the historic filling station building houses a GTÜ test station and a small bistro, the refreshment room. In the highly glazed room at the top of the gas station, lovingly prepared dishes are served in the style of the fifties, with kidney tables and old dishes.
Realisation
he aim of the relaunch was to present a stringent 1950s impression also on mobile devices in an appealing way and to massively improve the Google ranking through responsive programming. Our implementation in HTML5, CSS and Javascript guarantees good usability for all common mobile and stationary devices. Text, photos and video are maintained via the intuitive CMS "contao".
Primary font
Secondary font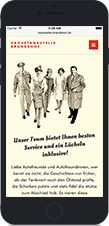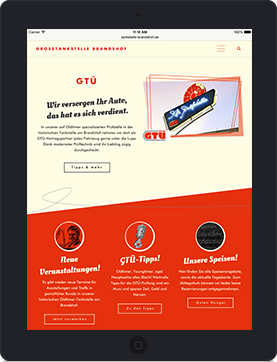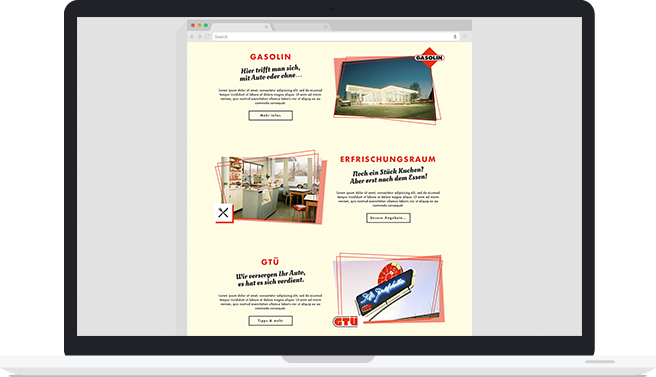 Responsive Website
Concept, design and programming are designed for optimal operability of the site on different devices.